[ China Agricultural Machinery Industry News ] When agricultural machinery people focus their attention on industry adjustment and market decline, it is increasingly clear that the short board of domestic agricultural machinery manufacturing has become a "fatal injury" - large-scale product shortage, small products Insufficient branding, domestic product competition has long been at the low-end level. In today's increasingly globalized competition, the core competitive advantages of domestic agricultural machinery manufacturing continue to fall, and innovation and upgrading are more important than ever.

In people's business sense, everyone regards "low-price vicious competition" as "cross-street mice-- everyone shouts", but in fact, these "rats" are repeatedly banned, and the root cause is actually surplus. The production capacity enters the chain reaction triggered by the white-hot competition. The low price must be low-cost, and low-cost is easy to enter the danger zone that sacrifices the overall quality. In this sense, domestic agricultural machinery manufacturing upgrades face a variety of tests, and the "coarse fabrication" of homogenized products of some production enterprises is even more abhorrent than "cross-street mice."

a focus
Is there any "good quality and low price"?

In the Weifang of Shandong and the Luoyang of Henan, the second and third-line brands have similar appearance and structural similarity to the first-line brands, but the prices are quite different. Taking 1504 as an example, the price of second- and third-line brands is at least cheaper than that of first-line brands. More than 50,000 yuan, is this really the traditional meaning of "good quality and low price"?

The answer is no. The author found in the survey of the machine, many second- and third-line brand products and the first-line brands have a "shape like God does not seem" gap, although the second and third-line brands borrowed the first-line brand technology, supporting systems and Related resources, and often in the manufacturing capacity, process standards, assembly quality, technological innovation, service docking and many other aspects of the congenital deficiency, and even a strange phase: second and third-line brands borrow the first-line brand parts supporting system, in the peak season, supporting business factors The production capacity is limited, and the first-line brand manufacturing needs are given priority. The first-line brand enterprises fail to pass the repaired parts and supply the second- and third-line brand enterprises at a low price. In the face of low cost and resource shortage, the second and third-line brand enterprises will release the green light. The part enters the assembly line.

At present, domestic traditional agricultural machinery such as small and medium-sized agricultural trailers, wheat harvesters, tricycles and other products have entered a mature stage. The second and third-line brands can easily manufacture the whole machine with the help of the first-line brand manufacturing system. Technology research and development, process innovation, component mold investment and other links pay less, so the cost is low, the whole machine is listed, the market is hit by low prices, and users are robbed. In the actual operation process, it is often "big faults, small The problem is constantly ", users can barely use it. This phenomenon has also caused panic and helplessness of the first-line brands. The sales price of small brands is almost the cost of R&D, manufacturing and service. The first-line brands are at a disadvantage in price competition. In recent years, the purchasing power of users has declined, and the low prices can really win users. The eyeballs, the sales of second- and third-line brands are not so small.

Having said that, based on long-term analysis, this low-cost, low-price, low-quality competition model is not advisable. On the one hand, most small brands rely on imitation to start, the technological process innovation ability is poor, and the organization is not perfect. The quality standard control system is not perfect, which is not conducive to industrial upgrading and development. At the same time, the technology of the first-line brand is not well protected, affecting its enthusiasm in this field, which is not conducive to the innovation breakthrough of agricultural machinery manufacturing; on the other hand, small brands Simply relying on low prices to impact the market, product quality and service are prone to insufficient support capabilities. Once batch problems arise, it will seriously disrupt market order and damage user interests.

On the whole, what people call "good quality and low price" is relatively speaking, and the "good quality and low price" that does not exist in the world!

Two cases
Cases: Who are the "Apple" and "Microsoft"?

Today, "Apple" is prevalent, and "Microsoft" was the boss ten years ago. In fact, "Apple" represents product culture, and "Microsoft" represents marketing culture. In the current market competition, the product is a persuasive competitive weapon, the product is not good, and other means are not strong enough, just as Jobs is respected because he has devoted all his efforts to create a product that touches the world, just as Apple has put The product mission is clearly set to "Customer Scream" instead of "Customer Satisfaction". User experience and recognition of the product is more important than ever, and good products can win user recognition. Win the user recognition to win the market!

The second case: "Made in Germany" and "Made in Japan" who is better?

According to reports, a reporter chatted with a manager of a Fissler pot shop in Berlin. "You can use a German artificial pot for 100 years, so every time you sell it, you actually lose a customer. You don't have to look for you in the future. You look at the Japanese manmade pot, and it will be over in 20 years. The customer has to look for him again every 20 years. Think about it carefully, can you get it? Why do you want to make things so Is it sturdy? Put a short period of use, can you not make more money?" The manager replied, "Where, all those who bought our pots don't have to buy a second time, this is There will be more and more people, and more people will come to buy our pots. We are busy all over now! Our kitchen factory was transferred from the past arsenal after World War II, but it was only a few decades before and after. I sold more than 100 million pots, the world population is 8 billion, and there is a big market with more than 7 billion people waiting for us!"

From the above two cases, we can easily draw the following conclusions. No matter what industry, the product is the "king" of market competition, there is no hard product, everything else is empty talk; then focus on, reliability, Durability and advancement are the basic indicators for measuring products. Similarly, the domestic agricultural machinery manufacturing industry needs to be upgraded and must be upgraded and spanned around products and full value chains.

Three revelations
Revelation 1: "Reliability" is a hard indicator for measuring products.

As we all know, the semi-feeding rice machine products used by domestic users have been monopolized by Japan's Kubota for many years. Compared with Kubota, the domestic semi-feeding is not too big, but the reliability of the operation is far from the same, and users are forced to help. In order to ensure the efficiency and effectiveness of the work, we have to choose the brand outside the cabinet.

In the domestic agricultural machinery manufacturing upgrade, we must carry out special research on "reliability" as a key indicator, manufacturing enterprises to do fine products, and infiltrate the spirit of "ingenuity" passed down by the Chinese nation into the whole process of manufacturing agricultural machinery products, and strictly control from raw material procurement to component processing. Then go to the whole process of assembly, inspection and verification, running-in and debugging, and so on, to ensure that each link is highly controlled, and eliminate any form of "coarse manufacturing"! At the same time, relevant management and support departments should increase support, three The links need to be carried out simultaneously. First, protection, raising the threshold; second, resource integration, survival of the fittest; third, price protection, advocating innovation.

Revelation 2: "Innovation" should be reflected in the whole process of manufacturing.

The hot topic of "innovation" has become a symbol of the development of the times. In many people's eyes, innovation is always unconventional. In fact, the author believes that innovation has two meanings: one is ""; The second is "different."

In order to upgrade the agricultural machinery industry, it is necessary to use "innovation" throughout the whole process. It is necessary not only to make great efforts to carry out technological process innovation, but also to intensify innovation in industrial design, processing methods, quality standards, performance testing and other aspects. It is a arduous and glorious course of pursuing breakthroughs, pursuing better and pursuing. Only by experiencing this process can we revive the subversive transformation and upgrading of the domestic agricultural machinery industry, and then we can transform the huge scale effect into a real and powerful one. Competitive advantages.

Revelation 3: Cherish the "name behind the body", not greedy "extraordinary interest."

When it comes to Germany, we also found an interesting phenomenon. In the German business field, many companies tend to focus on a certain area, a "small company" of a certain product, a "slow company", but very few "poor companies". There are no "fake companies", German machinery, chemicals, electrical appliances, optics, until kitchen utensils, sporting goods have become the world's quality products, "Made in Germany" has become synonymous with quality and reputation, this is only 80 million people The country has more than 2,300 worlds. Paying attention to the long-term reputation and not rushing to the immediate interests, this may be the core factor that German manufacturing promotes globally!

Domestic agricultural machinery manufacturing upgrades must focus on the long-term, put an end to all short-term behaviors of quick success and instant benefit, and cannot pursue the profit maximization at the expense of quality. Instead, we must put brand awareness throughout the whole process of product management. During this period, it must be full of Market demand-oriented survival of the fittest, many backward production capacity and spoilers who do not have comprehensive capabilities will be filtered out, and enterprises that can truly assume Chinese manufacturing will shoulder more responsibilities and missions. Only in this way can we create real In the sense of China's leading brand of agricultural machinery manufacturing, a century-old brand!
1.Product Name: Stainless Steel Ball Valve
2.Material: SS304 or SS316L
3.Standard: 3A, SMS, DIN, RJT, IDF
4.Size:1/2"-8", applied to the stainless steel pipeline system
5.Operating Type: Manual, Pneumatic, Electric
6.Connection Way: Weld, Clamp, Male, Female, Flange, or Combinations
7.Seal Material: Silicon, EPDM, PTFE,Viton, NBR
8.Standard: 3A, SMS, DIN, RJT, IDF
9.Three drive forms: Normally closed, normally opened and opened & closed by two air flues separately.
10.Application: The Sanitary Ball Valve is used for the control of liquid flow in beer, beverage, pharmacy field. They are combination of food machines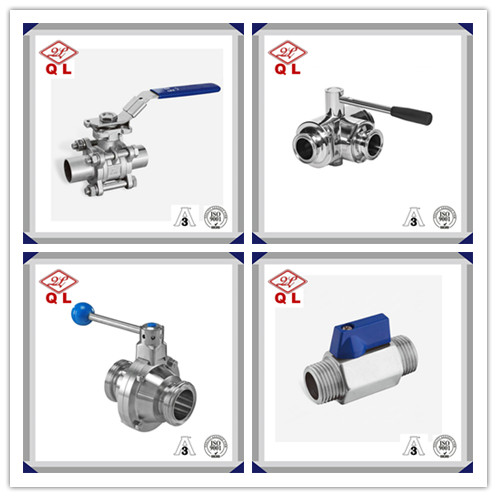 FAQ:
1.Are you a trader or manufactory?
We are a manufactory (Own Forging workshop and CNC machining workshop )

2.Can your products reach to FDA , CE and 3A requirements?
Yes, all of our material can reach to the requirements of FDA, ISO and 3A Certificate).

3.We can supply:
Sanitary Butterfly Valve, Sanitary Check Valve and Diaphragm Valves, as well as Various Tank Accessories: Sight Glass, Strainers/Filter, Cleaning Ball, And other Pipe Fittings, (Pipe Unions: SMS, DIN, IDF, RJT, 3A,DS; Fittings: Ferrule,Elbow, Tee, Reducer and all other Non-standrad fittings), each products are tested well by our strictly Quality Control System, and we also have excellent service to support you and promote your business.

4.Lead Time:
For large quantity, as usual, it can be sent out within 20-40 days.
Small parcel will be dispatched by DHL, FedEx, UPS OR TNT Courier.
Big cargo will be delivered by Air freight or By Sea.

5.Our Service:
About payment:
Payment methods: L/C, T/ T, Paypal,Western Union

6.About samples:
We can provide samples production and service. Usually 2 to 5 days, the sample can be sent to your hands. We will choose the shipping way as you required: By sea, by air or by express. Any question about samples, please contact us.

7.For OEM products:
We will finish the production within 20-40 days after payment has been confirmed.
About delivery and shipping:
We will choose the delivery way as you required: By sea, by air, by express ect. Save your cost is our mission.

8.Warranty:
Any question or problem will be respond within 12 hours.

9.Lifetime service:
Any problem happened to our product, we will do our best to help client to solve it, spare parts will be half price in lifetime.

10.Problem solve:
If you can't solve the problem in your local, please delivery the product to us, we will repair it and then back to you.

11.Quality control:
All the products are calibrated with real working condition, and tested before shipping as qualified product.

12.Purpose:Attitude is everything.
Sanitary Ball Valve
Sanitary Valve,Threaded Ball Valve,3 Way Ball Valve,Stainless Ball Valve
Wenzhou Qili Fluid Equipment Co., Ltd. , https://www.qlssvalve.com