February 7, 2018, the world's leading supplier Knorr-Bremse Commercial Vehicle Systems Company and
FAW Automotive
Co., Ltd. signed a strategic cooperation framework agreement in Changchun, becoming the all-round strategic partnership. The signing of this agreement marks a new stage in the relationship between the two parties. In the future, it will promote deep cooperation at multiple levels.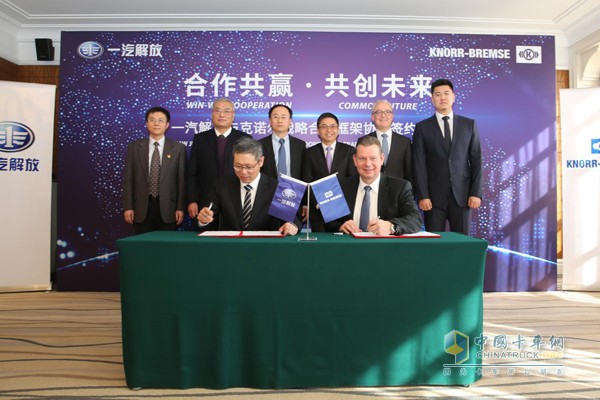 Knorr and China FAW Liberate Sign Strategic Cooperation Framework Agreement
In recent years, with the rapid development and upgrading of China's logistics and transportation industry, the rapid upgrade of logistics equipment has become a just-needed phenomenon. The Chinese commercial vehicle market has witnessed new trends, new challenges and new opportunities. In this context, Knorr and FAW Liberation will jointly develop deeper and more comprehensive cooperation in commercial vehicle brake systems and chassis components and related technical aspects. With the principle of creating maximum value for users, we will jointly provide users with the best system solutions. Mr. Hu Hanjie, Deputy Minister of Liberation Business Division, Deputy Secretary of the Party Committee and General Manager, and Dr. Peter Laier, Executive Director of Knorr Group's Global Commercial Vehicle System, attended the signing ceremony and signed a strategic cooperation framework agreement.
As the cradle of the Chinese automobile industry, FAW Liberation has developed into a leading commercial vehicle manufacturer in China by adhering to independent innovation. In 2017, FAW Jiefang realized a total sales of 297,000 vehicles, of which 265,000 were heavy trucks , with a market share of 19.7%, ranking first in the industry. Dr. Peter Laier, CEO of Knorr-Bremse Group's global commercial vehicle system, said, "Knorr and Fai Liberation have a profound foundation for cooperation. This cooperation will help Knorr to further develop its leading global technology and service advantages in the commercial vehicle sector. It will provide strong support for FAW's liberation toward the international market, and will further promote the development of China's commercial vehicles in the development of security, efficiency, and smart interconnection."
"The Knorr Group has world-leading technology to ensure safer driving of vehicles." Mr. Hu Hanjie, executive director of the Liberation Business Division, deputy secretary of the Party Committee and general manager, also stated that "the cooperation with Knorr will help FAW to actively promote China. The commercialization of commercial vehicle advanced technology has brought the technological level of related industries to the forefront of the world."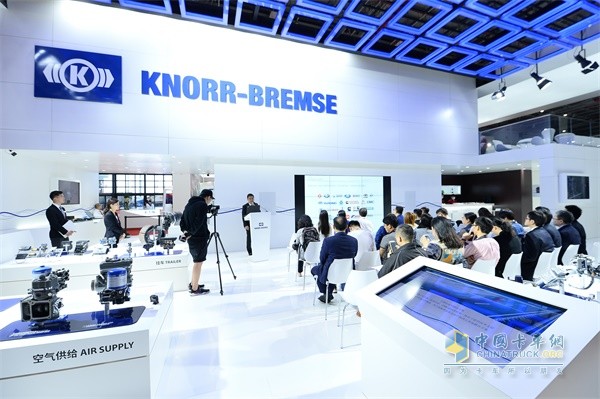 Knorr products displayed at Shanghai Auto Show
Mr. Xu Baoping, President of Knorr Commercial Vehicle Asia Pacific further stated that "Knorr, as a supplier that can provide complete braking system technology, has its own unique advantages in innovation, energy saving, environmental protection and safety. Currently, Knorr has many applications. Mature technologies and high reliability products in the Chinese market can provide better support for the application and updating of FAW's technology, which will also help China's leading OEMs in the increasingly fierce competitive environment in the world market. It is more competitive."
In addition, the two sides decided to strengthen exchanges and cooperation in such areas as brand cooperation, product development, marketing and information liaison. The signing of this strategic cooperation is both an affirmation of the past cooperation results of the two sides and a strong expectation for the future cooperation prospects. The two sides will implement a full-scale, in-depth strategic cooperation to push the technical cooperation partnership to a new level and the prospects for cooperation will be even broader.
Readings:
Nut Kernel Shell Seperator Machine:
Our

vibrating macadamia nut shell Separator Machine
uses for separate the shell and the seeds ,such as palm kernel,
palm kernel,pecan,apricot and filbert.
This machine use nuts and the proportion of broken shells and suspension speed of different characteristics.
This
nut shell separator machine
adopts speed inverter control which can be easy to separated.
The separation rate can reach 98%.
Company Introdution:
We mainly manufacture: meat processing machines, milk processing machines, egg processing machines, fruit vegetable machines etc. We have years of exporting experiences, sincerely hope for copperation!


Nut Kernel Shell Seperator Machine
Nut Kernel Shell Machine,Shell Machine,Nut Kernel Separator Machine,Separator Machine
Henan Gems Machinery Co.,Ltd , https://www.gemsmachine.com