"I have studied the diesel engine industry for 40 years and many ideas have been realized in Yuchai. Yuchai has a good prospect of development and the human environment is also quite good. Inside I am very grateful to Yuchai for giving me a huge stage of development..." Professor Zhuo Bin in front of reporters talked cheerfully about the years of work and life in Yulin. His speeches all revealed his sense of accomplishment and pride in his work. He had been working in the front of his chest with a work permit of Yuchai's engineers in front of his chest. A well-dressed appearance showed the grace of scholars.
As the largest internal combustion engine production base in China and the leader in the diesel engine industry, Yuchai has not only adhered to the self-developed route, but also its scale and various policies for scientific and technical personnel to display in order to expand the huge stage space, thus forming the scientific research personnel in the industry. Great attraction. In 2003, Zhuo Bin, the chief professor of Shanghai Jiaotong University who has long devoted himself to teaching and research work in colleges and universities, joined Yuchai. In 2007, he became the senior technical adviser to the president and chairman of the Yuchai Engineering Research Institute. He has been leading the company's scientific research and technical team. We devoted ourselves to the research and development and innovation of Yuchai's new technology and continuously made new technological breakthroughs, which have made significant contributions to accelerating the development of Yuchai.
"This is pressure, it is more power."
At the beginning of Yuchai, Zhuo Bin assumed the important task of establishing the application matching capability of Yuchai's electronic control technology, training Yuchai's advanced electronic control technical personnel and developing electronic control technology products. As a doctoral tutor and a famous professor who enjoys special allowances from the State Council, Zhuo Bin naturally felt the burden on his shoulders, but he said: "This is pressure, it is more motivated." After taking office in 2003, Zhuo Bin and Shanghai Jiao Tong University Dr. Xiaojian Xiao and Dr. Wenwen Xiao, who had been with him for electronic control research, communicated with each other and invited them to join Yuchai. At the same time, 7 people, including Liang Feng and Zhou Xingli who were reading at the time, mobilized the subject to Yuchai. In 2004, he recruited soldiers from trials and design backbones to form a 9-person electric control team. At the same time, he quickly completed pre-job training, detailed implementation of the division of labor, and led them to various technical development, low fuel consumption achievements, electronic controllers. A lot of research was done on the launch of the model, and Yuchai's electronically controlled engine model was depicted on a white paper.
The first thing they did was product integration innovation, namely: technology digestion, integrated innovation, and a trilogy of products with independent intellectual property rights. In 2003, the company issued the development task of the 3 engines of the country. In addition to the technical upgrade of the diesel engines, the 3 engines of the country also need to complete the leap from mechanical regulation to electronic control. The first step is to face the problem of vehicle calibration capability and software publishing rights. Zhuo Bin once worried that this recruit could not master the complex electronic control integration technology and complete the optimization of tens of thousands of data for the entire vehicle and issue it correctly. However, if there is no own calibration capability, every new model must be issued by a foreign supplier. A large amount of development fees will greatly weaken Yuchai's market competitiveness. Zhuo Bin bravely started the "engine." After experiencing countless sleepless nights and numerous technical quarrels, they learned about system integration in the past year. Zhuo Bin finally brought electronically controlled team members to deliver a satisfactory answer with sweat. . Yuchai has also become the only company in the industry that can independently conduct vehicle electronic control integration and calibration. British experts exclaimed after testing the vehicle they had developed: "It's incredible. You have completed the work that Europe needs two years to complete in just ten months."
But Zhuo Bin thinks this is just the beginning. He said: "Only by completing technological innovations and mastering a series of original and proprietary technologies can we have our own core technologies that are key to our company. We are in an invincible position in the fierce market competition." Then he led the company. The technical team has invested in new research and developed a hardware-in-the-loop simulation system for electronically controlled diesel engines. According to him, this technology can simulate the operation of an electronically controlled diesel engine and perform control strategy validation, fault detection, and sensor calibration, etc., in a diesel engine-free environment. As a result, Yuchai became the only company in the domestic diesel engine industry to own this technology. In addition, the electronically controlled diesel engine test benches and electronic spray system test benches they developed have also played a significant role in production. An electronic control expert from Germany's Bosch Company commented: "The electronic control technology in China that understands and masters the best is Yuchai's technical team."
"Low-key and high-profile work."
In February 2005, Zhuo Bin personally led a team to go to Heihe and completed the first winter test in a temperature of minus 30 degrees Celsius. The winter calibration is performed in a low temperature environment below -20 degrees Celsius for a long time for outdoor testing and maintenance. There, the digital camera could not bear such a low temperature that the liquid crystal display screen burst; the notebook computer responds sluggishly due to low temperature or simply strikes; multimeters, current clamps and other electrical equipment must be sent to the hothouse maintenance after working outdoors for 1 hour; the pen only works a few Pen burst occurs in minutes; a battery alarm or no signal appears when the cell phone is used for no more than 15 minutes outdoors. Faced with this situation, Professor Zhuo Bin, who is the oldest, is responsible for starting a vehicle that takes a long time to start, and he personally drives a test to evaluate the problem. He even climbs to the bottom of the vehicle to solve the problem. In the cold winter, Yuchai's winter calibration team conducted a test every morning at 5 am and 11 pm. Under his leadership, Yuchai Tiejun successfully completed the scheduled test mission in the ice and snow in a spirit of indomitable fighting. This signifies Yuchai's advancement in the development of electronically controlled diesel engines, especially in the field of passenger car diesel engines and complete vehicle matching. A big step, far ahead of other domestic counterparts, and accumulated a lot of valuable experience for the follow-up electronic control diesel engine development and vehicle matching. Currently, Yuchai's 4W engine has been able to support eight car factories across the country.
"Low-key is a high-profile work." This is what people say about Professor Zhuo Bin. He has multiple positions and people like to call him "teacher" affectionately in their normal work and life. "The teacher is, so the evangelism is also doubtful." In the students' mind, Zhuo Bin is a highly respected missionary. For the front-end technology, he is far-sighted and leads the times. For the technicians, he follows the good and the good, solves problems, and tries his best.
While developing the electronic control business, Zhuo Bin also educated Yuchai's team of electronic control experts. His students Feng Jing, Liang Feng, etc., have now become the backbone of China's electronic control, and a group of talents brought by them, such as Chen Junhong, Huang Mingsheng, etc., have also gradually matured, and can be independent, Dr. Zhou Xingli in the fault diagnosis On the other hand, it has also become one of the few experts in the country.
Some people say that Professor Zhuo Bin has a scholarly spirit. He devoted himself to research and development of science and technology, he was concerned with the national industry, concerned about the well-being of the people's livelihood, and did not regret his life. When he was ill, he not only insisted on his work, but he also thought that he could solve the hardships for the staff in trouble. The first thing he did when he was discharged from the hospital was to send a 5,000 yuan donation to the union and use them to apply it to employees who had difficulties in living and retire.
As an expert and scholar, Zhuo Bin knows that the highest level of academic research is "doing nothing", conforming to nature, and doing nothing, so that it can be great. In the Institute of Engineering, he used "inaction" as the Institute's training; he pursued the "three-state" realm of meritorious service, speech, and leadership, constantly reflecting on himself and influencing generations of Yuchai researchers with his own charisma and knowledge. With kindness and kind words and deeds, Huize is full of Yuchai people. Therefore, all Yuchai people respect him very much. Thank you very much.
"Yuchai is a vast stage and I'm happy to show my skills here."
Zhuo Bin, a renowned professor at Shanghai Jiaotong University and a domestic internal combustion engine expert, participated in the national "6th Five-Year Plan" research project as early as the 1980s. His research results have won the China Shipbuilding Scientific and Technological Achievement Award and the National Ministry of Education Science and Technology Progress Award. He also received a special government grant from the State Council in 1999 and a GM China Science and Technology Achievement Award (Personal Achievement Award) from the National Natural Science Foundation in 2000.
In Yuchai, which has been hailed as a talented "highland, big stage," Zhuo Bin can be said to have a lot of water and fully display his talent here. In 2003, Zhuo Bin headed to Yuchai led the Electronic Control Department to develop several models of city buses, making Yuchai the only national machine manufacturer in the country to be particularly eye-catching in the 2004 Beijing bus bidding conference; 2006 On February 26th, Yuchai's 1,000th Taiwan State Machines went offline, reaffirming Yuchai's position in terms of mass shipment of three machines in the country, far ahead of its domestic counterparts. In the same year, "YC6G240-30 Diesel Engine" won Yulin Technology. Progress Grand Prize; May 2007, Yuchai YC6L-40 New Type 4 Electronically Controlled Diesel Engine was successful in Beijing Public Power Bidding; Yuchai Guoji 4 Power will assemble Chinese passenger cars to enter the Beijing Public Transport Market and become dedicated to the 2008 Beijing Olympic Games The team is competitive with famous foreign brands. On July 20, 2007, Yuchai Engineering Research Institute was established. As the famous expert of diesel electric control technology in the domestic internal combustion engine field and Zhuo Bin, senior technical consultant of Yuchai's chairman, he became the president of Yuchai Engineering Research Institute. But many honors did not make him proud of this. He modestly stated that honor is nothing more than an affirmation of one's own abilities. It should be more of a consideration of the Institute's social responsibility.
"Yuchai is a company with great potential for development and has a very broad stage. Here, I can engage in many creative work of my own, and I can enjoy the ideal of achieving a great sense of accomplishment. I can do my best here and do it. The things you like are a valuable pleasure in realizing your self-worth in life." In a reporter's interview, he talked about his harvest from Yuchai's work. Zhuo Bin responded with such a smile. When asked why he came from the bustling Shanghai to Yulin to offer Yuchai, he expressed his gratitude to Yuchai's leaders for their care of their lives and their families, and provided them with a huge platform and a broad arena to display their skills.
In the face of the global financial crisis since 2008, Zhuo Bin said that Yuchai people should be prepared for danger in times of peace, and look forward to the future. They should also strengthen their confidence in the face of reality, pay attention to their internal skills, improve their management quality and technical capabilities, and develop new students. Machines, to further improve product quality, so that technology has become a commodity into the domestic and overseas markets.
Under the new situation, Zhuo Bin will lead Yuchai's technical team to build the Yuchai Engineering Research Institute from the aspects of "mechanism, capability, and atmosphere". "Mechanism" refers to the revitalization of the Yuchai Engineering Research Institute through the implementation of a two-dimensional project system and an incentive mechanism for innovation; it enables everyone to realize their value through better, more efficient, and more creative work. "Competence" refers to the ability to enhance the individual skills of individual technical personnel and the team's capabilities, and to amplify this capability through advanced project management. "Atmosphere" refers to creating a harmonious and pleasant environment, allowing more top talents to come to the fore, allowing all technicians to be respected and the ability to get the most outburst. He said that he will lead Yuchai's scientific research team to organically combine the three aspects of mechanism, capability and atmosphere to form a creative and strong technical team, not only to provide competitive products for the development of the Yuchai industry chain, but also It is necessary to promote the technological advancement of China's internal combustion engine industry through international-level powertrain R&D.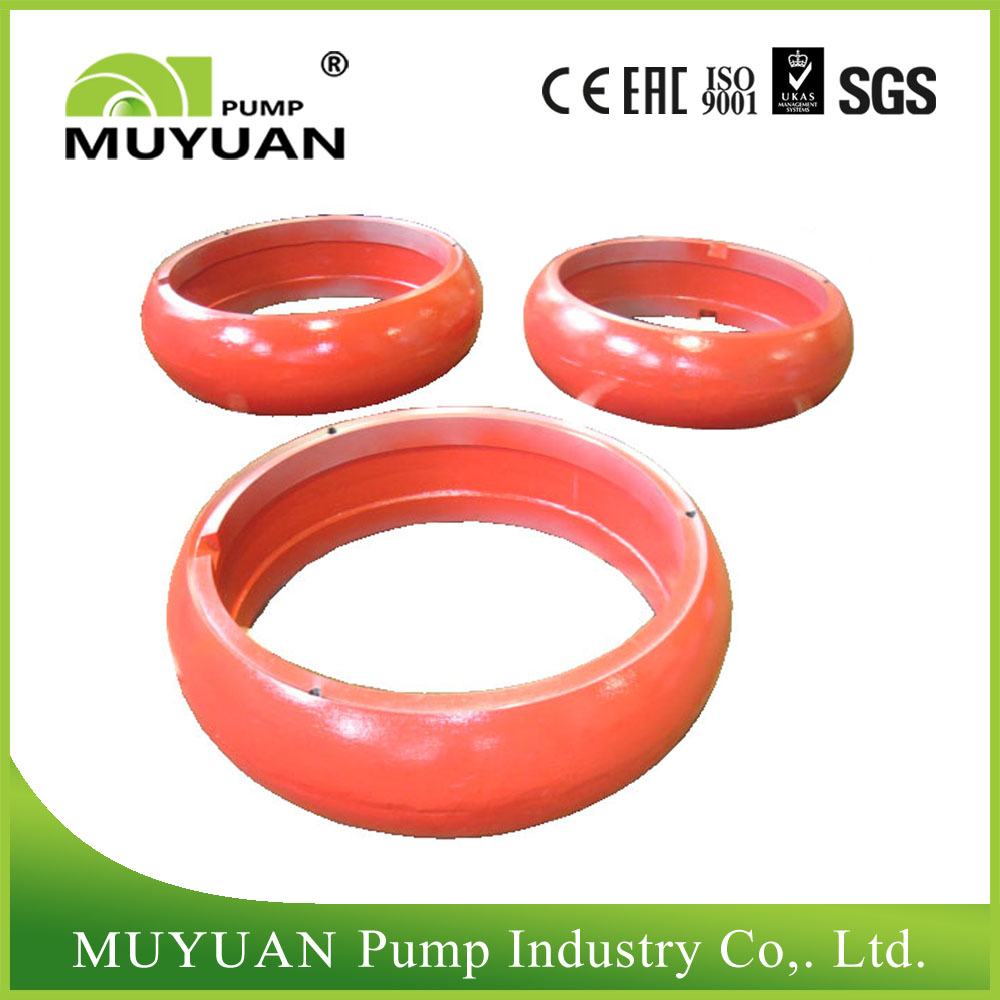 Muyuan is a foundry factory, has 15 years experience in producing casting. The materials we can produce are: High Chrome Cast Iron , Ductile Iron, Gray Iron, Ni-hard 1, Ni-hard 4 and so on.
Not only does MUYUAN offer the complete pumps, Pump Spare Parts, we also offer the mining used Mill Wear Liner, High Chrome Castings, ,Wear Ring and some other castings.
Wear Ring
Wear Resistant Wear Rings,Corrosion Resistant Parts,Corrosion Resistant Wear Parts,Abrasion Resistant Wear Rings
SHIJIAZHUANG MUYUAN INDUSTRY & TRADE CO., LTD. , https://www.cnmuyuan.com