Coarse disseminated weakly magnetic iron ore dissemination size is generally more than 2mm, containing siderite, limonite mostly higher iron. There is often a certain amount of clay in the limonite ore. The coarse-grained weak magnetic iron ore is relatively easy to select, and is generally sorted by washing, re-election (heavy medium, jigging, spiral concentrator ), dry or wet strong magnetic separation and other mineral processing methods.
Among the iron ore processed by the US Sunrise concentrator, 80% of the iron-bearing minerals are soft red earth-like hematite, the rest are hard black crystalline hematite, and the ore contains 42% iron, hematite. Easy to dissociate from the quartz vein. The ore is divided into four levels of 125-38, 38-6.4, 6.4-0.59, and ~0.59 mm through a crushing sieve. The three levels of 125 to 38, 38 to 6.4 mm were respectively subjected to heavy medium sorting using ferrosilicon as a medium. Three grades above 0.59mm are washed first before sorting. The ore is treated by washing, heavy medium, jigging and spiral concentrator, respectively, and the concentrate grade is 48.99%.
The iron ore processed by the steep rock concentrator in Canada is a mechanical mixture of high-grade goethite and gangue, containing 40% to 54% of iron. Using a re-election process combining washing, heavy medium, jigging and spiral concentrator, a mixed concentrate containing 59% iron is obtained.
Medical Waste Treatment Machine
Background:
Medical waste with strong infections, toxic and corrosive,emissions, lax management or improper handling characteristics. It could be winnowing or failure by rain leaching, causing pollution to water body, atmosphere, soil and making direct harm to human body.
In order to ensure the medical waste is timely, efficient and harmless be disposed and to prevent the spread of disease, after years of scientific research, our company designed medical waste treatment machine, which use high temperature
disinfection and sterilization of medical waste biomass decomposition of fuel oil project, can turn a thorough treatment of medical waste, saves the cost of transportation, the landfill can also be used to create higher economic benefits.
End Products Usage:
1. Fuel oil used as fuel for industries such as steel&iron factories,ceramic or chemical industries or hotels restaurants etc.
2. Carbon black be used as garden fertilizer
3. Sync Gas be recycled to heat machine
Medical Waste Treatment Machine Picture;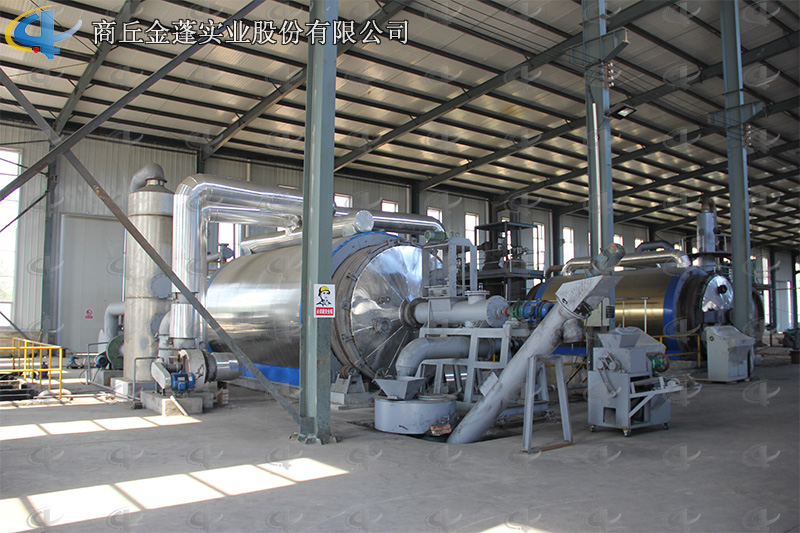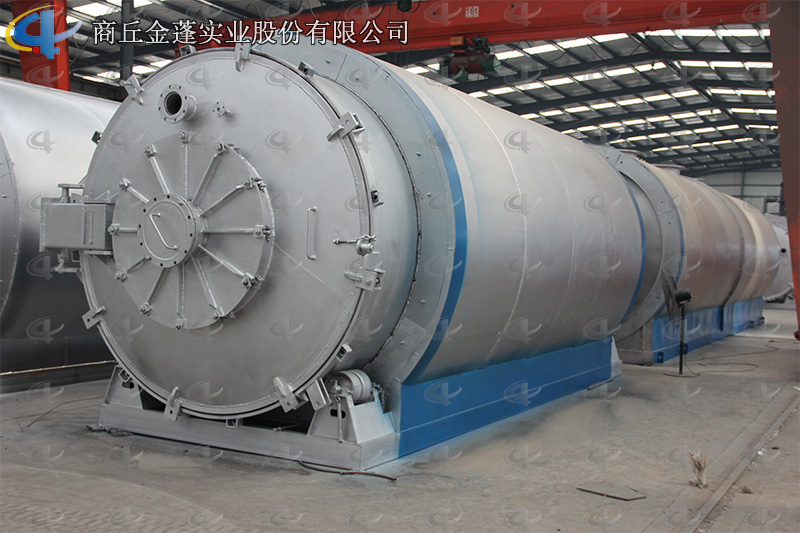 Advantages:
1. Integrated design of reactor and base, no civil work needed to make the installation faster and easier.
2.Sync gas purification system is designed for developed countries which has very high environmental standard. It makes the full operation process under slightly negative pressure to ensure the safety of operation. And the system removes acid content of the sync gas to ensure the production is both clean and environmental friendly.
3.National Patent Unique Smoke Scrubbers: More efficient removal of the acid gas
and dust of the smoke through neutralization, purification and absorption, environmental friendly without pollution.
4.National Patent automatic Carbon Black Discharging System: Speedy fully
enclosed Auto-discharging under high temperature, avoiding carbon black pollution and saving time.
5.Safety aspect:Production under Slightly negative pressure, automatic
submerged welding technology, ultrasonic nondestructive testing, both manual and
automatic safety devices.
Parameters:
NO.

ITEM

Technical Parameter

1

Door Model

Full Open Door

2

Suitable Raw Materials

Medical waste

3

Structure

Horizontal Type Revolves

4

Main Reactor Size

Φ2200*6000mm

Φ2600*6600mm

5

Daily capacity

5~6MT

8-10MT

6

Work Pressure

Normal Pressure

7

Reactor Rotation Speed

0.4R/M

8

Power

18-25 kw

9

Cooling Method

Cycle Water

10

Type of Drive

External Annular Gear

11

Heating Method

Direct Heating

12

Type of Installation

With Foundation

13

Noise dB(A)

≤85

14

Operating Mode

Intermittent Operation

15

Total Weight(MT)

25~40Mt

16

Installation Space Required

30m*10m

17

Manpower

3~4/batch

18

Shipment

Ф2200×6000=1*40HC+1*40FR

Ф2600×6600=2*40HC+1*40FR
Medical Waste Treatment Equipment
Medical Waste Treatment Equipment,Medical Waste To Oil Machine,Medical Waste Recycling
Shangqiu Jinpeng Industrial Co., Ltd. , https://www.recyclings.nl