Max. Efficiency for Each Welding Head:
400d. I/8hrs
After-Sales Service Provided:
Engineers Available to Service Machinery Overseas
Applicable Industries:
Oil&Gas, Refinery Facilities, Offshore&Shipbuildin
Certification:
ISO9001:2008
Specification:
SGS, ISO9001
Automatic Pipe Welding machine(TIG/MIG/arc)
It has features as following:
1.Three models available( 8"type, 16" type,24"type);
2. Â Suitable for C.S./S.S./Alloy S., etc.;
3. Consist of two welding machines/heads, one is column and boom type; another is pressure head type;
4. TIG/MIG/SAW are optional;
5. Â PLC system control & WPS programmed;
6.Higher welding quality and efficiency, for example, for a 24" type automatic pipe welding station, it can reach 330DI-375DI /day productivity, including handling, presetting time.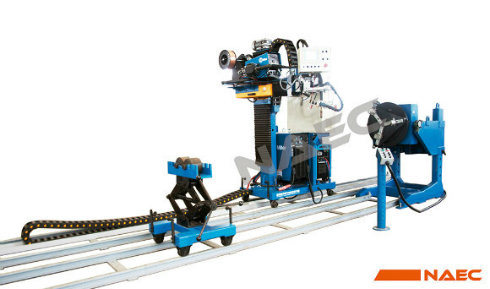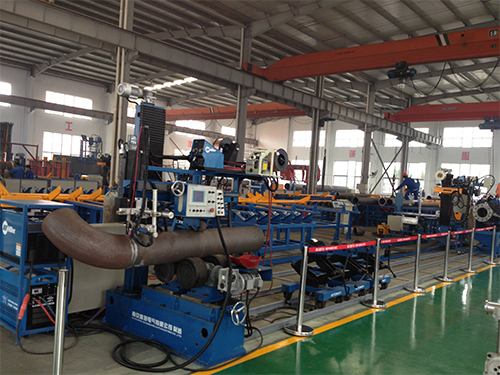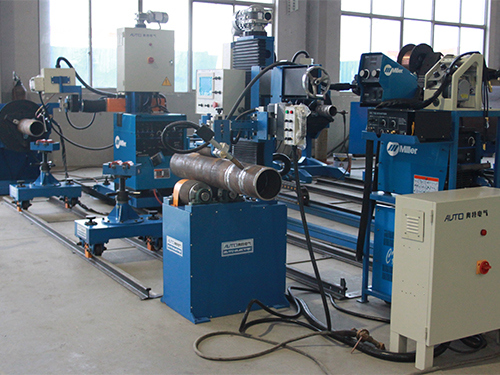 It can match with the following machines to form a pipe fabrication production line:
1

Pipe Cutting & Beveling All-in-one Machine

2

Two-Axis/Six Axis CNC Flame/Plasma Pipe Cutting and Profiling

Machine (Roller-bed type)Â 

3

CNC Flame/Plasma Pipe Cutting and Profiling Machine (Chuck type)

4

High Speed Band Saw Cutting Machine

5

Hign Speed CNC Pipe End Beveling Machine

6

Multi-Function Pipe Fitting-up Station

7

Heavy-duty Multi-Function Pipe Fitting-up Station

8

Motorized Pipe and Slip-on Flange Fitting-up Machine

9

Automatic Pipe Welding Station

10

Cantilever Type Automatic Welding Machine

11

Automatic Elbow Welding Machine

12

Heavy-duty Automatic Pipe Welding Station

13

Heavy-duty Cantilever Type Automatic Welding Machine

14

Heavy-duty

Automatic Elbow Welding Machine

15

Automatic Two-Torch Pipe & Slip-on Flange Welding Machine

16

Automatic Four-Torch Pipe & Slip-on Flange Welding Machine

17

Large-Flage and Pipe Welding Station With Two Torches

18

Conveyor System

19

Digital X-ray Imaging System of Welding Seams Inspection
With more than ten-year accumulation of technologies, NAEC constantly provides whole solutions for pipe spool fabrication, aiming to improve clients' fabrication quality, efficiency and profit, bases on our systematic layout design, IT-based automated fabrication system and advanced fabrication software in numerous industrial construction area, such as oil and gas, refinery, petro-chemical and any hydro-carbon industry, also shipbuilding and offshore industry, even power plant and nuclear industry.

NAEC is dedicated to be pipe spool fabrication expert. Out system design capability is able to minimize user's manpower consumption of one unit Dia. Inch fabrication work. Our design ability can be as low as 0.142 manhour/D. I. It means the comprehensive productivity under automatic fabrication mode can achieve up to 15 times higher than that under traditional manual mode.
Our solution covers fabrication of different materials, such as C.S, S. S, Alloy steel, Duplex S. S. etc, from pipe dia. 2" to 60". Besides our automatic welding station can do automatic TIG/ RMD-MIG root pass and TIG/ RMD-MIG/MIG/ SAW fill and cap pass.
 
We not only provide effective pipe spool fabrication solution, but also provide fast build up workshop solution, raw material prefabrication, finished spools Non-destructive testing solution, which can speed up the whole production construction cycle and guarantee project quality.
 
Based on the above ability, our pipe spool fabrication system has been recognized worldwide and been used by many famous contractors all over the world due to the high efficiency and good quality production and mostly manpower saving advantages. We have strong confidence in providing professional solution for your pipe spool fabrication workshop.
 
There are two types of pipe spool fabrication system: fixed type and containerized type. Fixed type is more suitable for heavy work load fabrication, and can get higher automation rate. Containerized type is more suitable for on site fabrication. 
Bearing shell is a semi-cylinder surface of tegular shape. It is clearance fit to the shaft neck. Our company could produce bearing shells for all kinds of couplings, especially for Voith couplings.
Size & Material: as required
Design: our new design or same as old parts
Package: standard export packing or customized
Transportation: by truck, by plane, by ship
Advantages:
1) Superior quality guaranteed
2) Competitive and reasonable price
3) Long lasting and reliable working life time
4) Fast lead time
5) Able to produce according to specification with control
6) Packing according to specifications required
7) Positive client feedback in abroad and domestic markets
8) Professional manufacture and offer the best serve
Our Serve:
1) Experienced engineers answer all your questions
2) Customized design is available
3) Offer surveying and mapping at site
Coupling Bearing Shell,High Speed Coupling Bearing Shell,Low Noise Coupling Bearing Shell,Half Shell Coupling Bearing
Shenyang German Machine Hydraulic Transmission Machinery Co., Ltd. , https://www.hcouplingc.com