Do not fear ice and snow, welcome to the cold. From February 3 to February 5, 2018, the 2018 China Truck Challenge Challenge was officially opened at the Hohhot Auto Testing Ground of the Hulunbeier Winter Auto Test Center of China Automotive Technology Research Center in Inner Mongolia. As the sponsor of the challenge,
Linglong Tire
was the participating vehicle. Various winter tires such as KWD601, LFW806, Green-Max Winter Ice I-15 SUV and Green-Max Winter Van are provided to ensure the smooth completion of the event.
Delicate tires provide winter tires for challenging vehicles
In the contest, more than a dozen commercial vehicle companies, including Foton Motors , Nanjing Iveco, North Mercedes-Benz, Sichuan Hyundai, Jiangling Heavy Truck, and UFO Automobile, took the mainstream models on the market to peak in the cold weather of minus 40 degrees. The showdown sounded the strongest sound of China's trucks moving toward high-end.
The -40°C Hohhot test site is not only snow-capped, it also hides a few feet of deep, smooth ice under thick snow. Under such circumstances, trucks want to complete the snow reel skill race and fixed-point parking. Skills racing, snow acceleration is almost impossible.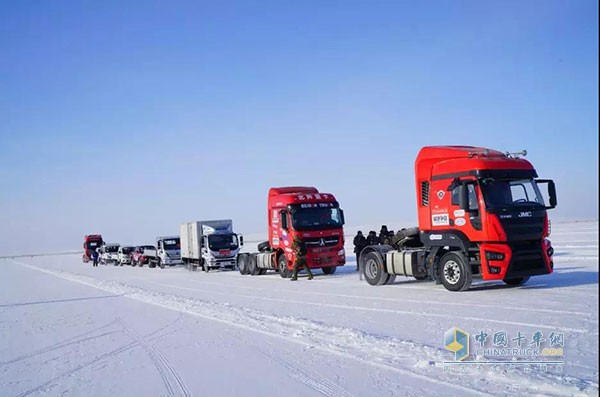 A variety of models a choice: exquisite tires
"Special thanks to the exquisite winter tires for helping us to complete the challenges outstandingly and adding a lot of glory to our good performance on icy and snowy roads." This was an interview in the post-game with representatives of many participating manufacturers The sentence expressed by the reporter. They believe that in this extreme challenge of the truck, exquisite winter tires really contributed.
Experimental data show that vehicles with exquisite tires have stronger grip
In an interview, the evaluation engineer of the China Automotive Technology and Research Center stated: "There are more and more types of electronic assisted control programs currently installed on automobiles, but a common basis for the effectiveness of these functions is the adhesion of automotive tires. Adhesion to the vehicle is minimal or even zero, then the realization of any electric control function of the vehicle is impossible. Fortunately, the exquisite winter tire support makes the vehicle more stable and reliable when steering and braking."
Through the test data, it is found that the vehicle equipped with exquisite winter tires and ordinary tires can be braked on the same snow and ice roads, the distance can be reduced by 10%-15%, and winter tires can provide greater lateral friction when the car turns, starting, The overall performance of acceleration and braking is better.
Readings:
Hdpe Roller,Hdpe Pipe Roller,Hdpe Conveyor Idler Roller,Polymer Polyethylene Roller
SHIJIAZHUANG VITURE IMPORT AND EXPORT TRADING CO.,LTD , https://www.viture-conveyorbelt.com