In 2017, the production and sales of new energy vehicles in China were nearly 800,000, reaching 794,000 vehicles and 777,000 vehicles, respectively, an increase of 53.8% and 53.3% respectively year-on-year. Our country ranked first in the world for three consecutive years, with a cumulative total of 1.8 million vehicles. It accounts for more than 50% of the global market.
Recently, major listed car companies released 2017 performance forecast, and many companies that vigorously develop new energy vehicles have a large correlation between their profits and losses and their policies. Let's take a look at what kinds of answers will be given by listed companies.
As of the date of the press release, the electric vehicle resource network collected a total of 19 listed companies including SAIC, GAC, FAW, Jinlong Auto, Zhongtong Bus, Jianghuai Auto, Jiangling Auto, and Geely Automobile.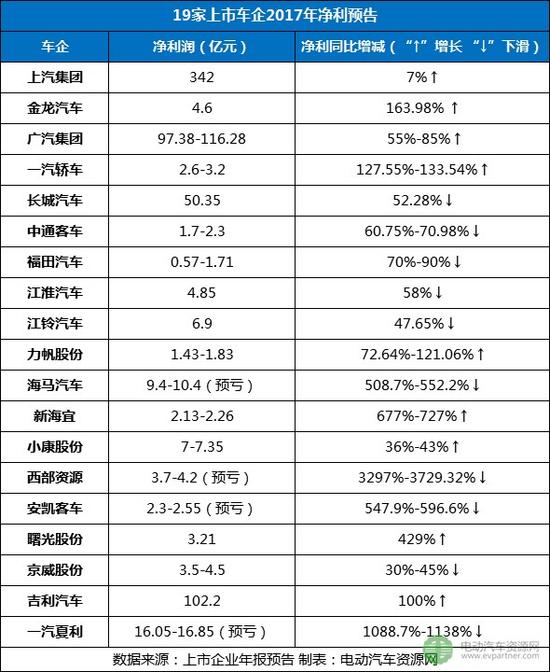 The company that makes the most money & increases the most
Among the 19 listed companies in the electric vehicle resource network, the highest net profit (attributable to shareholders of the listed company) was SAIC, followed by GAC. The largest increase was Xinhaiyi (jointly shareholder of Shaanxi Tongjia), followed by Shuguang.
From the chart point of view, Geely Automobile, Jinlong Auto, FAW Car, Lifan, and Xiaokang have also achieved a new level of net profit in 2017. In particular, Jinlong Automobile, as Suzhou Golden Dragon Company resumed the production and sales of new energy passenger car products, and can apply for state subsidies as usual, and accrued changes, the company turned losses into profits, and the estimated net profit was 460 million yuan, a year-on-year increase of 163.98%.
The worst loss company
Looking at the company's annual report, it can be said that several families are happy. FAW Xiali, Haima Motors, Western Resources, and Ankai buses all experienced relatively serious losses, with the biggest drop of more than 3000%, which was rather tragic. The performance of Great Wall Motors, Zhongtong Bus, Foton Motors, Jianghuai Auto, Jiangling Autos and other car companies also fell short of expectations, showing a decline in degrees.
As for the decline in performance, each has its own reasons. For example, Great Wall Motors stated that the company will use profit-sharing activities such as buying cars and rolling red envelopes to promote existing products, affecting the level of revenue and gross profit margin, and at the same time continuously improve the competitiveness of SUV products. Continue to increase investment in research and development, resulting in growth in research and development costs. In recent years, Foton Motors, Zhongtong Bus and Jianghuai Automobile Co., Ltd., which have been vigorously deploying new energy sources, have all been affected by the adjustment of new energy vehicle subsidy policies or the decline in vehicle sales.
Prospects for the New Energy Vehicle Layout in 2018
Among the listed companies, BYD, BAIC, Yutong Bus, Dongfeng Automobile, Zhongtai Automobile, etc. have not yet released earnings forecasts, but judging from the market performance of these companies in 2017, they have maintained their leading position in the new energy automotive industry and can predict them. The "Troika" in 2017 will not be too ugly and will continue to move forward in the field of new energy vehicles. In spite of the above 19 car companies' attitudes or technical routes to new energy vehicles, enterprises will seize opportunities in the context of the country's efforts to develop new energy and control the volume of fuel vehicles. Take a look at what plans these companies have!
According to the latest news, BYD will launch a number of new cars including the Qin EV 450, the new Qin, the new Tang, Yuan EV 360, and the e5 450 in 2018. From 2018 onwards, all its models will be augmented with smart connected systems, and its pure electric models will also be replaced with three-element lithium battery packs.
Beiqi New Energy plans 4-5 new cars represented by the EU450 and ET400. Among them, there will be a cross-border boutique of more than 400km, which will be planned as a new industry explosion. In 2018, the annual sales target will be 150,000 units and the target revenue will be 19 billion yuan, which will become the new energy vehicle company with the largest market share. At the same time, BAIC New Energy will accelerate the pace of listing.
In the new year, Jianghuai New Energy plans to launch 5 models of pure electric vehicles with a total sales volume of 50,000 units. The iEVA50, iEV6ES, and iEVA60 are the latest additions to the iEV7S and Long Range iEV7, which have increased their cruising range to 300km.
In 2017, GAC Group continued to promote the three major breakthroughs of "Electrification, Internationalization, and Networking" around the "one center, two unwavering, three transformations" main line. GAC has joined forces with Tencent, Weilai, Mobile, HKUST, and Xiaoma Zhixing to accelerate the "13th Five-Year" strategy. In 2018, GAC Group will strive to achieve an increase of over 10% in production and sales, of which the production and sales of self-owned brands will increase by more than 20%.
In 2018, SAIC plans to sell 100,000 new energy vehicles. In addition to several major models currently under sale, there are still two models on the market in the first half of this year and the third model in the second half of the year.
Geely Automobile expects to launch more than 5 new energy models in 2018. Among pure-electric models, Geely will launch pure-electric models of compact SUVs and compact cars in addition to the current Emgrand EV series, and will emphasize the production of pure-electric models in 2018. The cruising range reaches 400km. At the same time, Geely's future cars and SUVs will also be built based on the new electric vehicle platform, which will be released in the second half of 2018. In terms of hybrid models and plug-in hybrid models, Geely will gradually become popular in all its models.
According to Chang'an Automobile's "Shangri-La Plan", by 2020, Changan Automobile will build three dedicated platforms for new energy vehicles; in 2025, it will launch 21 new pure electric vehicles and 12 plug-in hybrid products, while discontinuing traditional sales. Fuel truck. This year will introduce a compact plug-in hybrid SUV and a pure electric MPV model.
According to the electric vehicle resource network, in 2018, Jiangling New Energy Automobile will launch nine new models, including several new products such as E180, E300, E400 and E500, as well as a variety of modified models and replacement models. At the same time, Jiangling New Energy will invest 12 billion yuan in the construction of new energy vehicle bases and engineering institutes. By 2020, Jiangling New Energy Automobile plans to achieve an annual sales target of 100,000 vehicles.
In May 2017, Great Wall Motor Co., Ltd., which has been focusing on SUVs and pickups, has launched its first pure electric car, the Great Wall C30EV. Under the stimulation of the new energy vehicle dual-integration policy, Great Wall Motors could not stand still. On the one hand, it has continuously launched new energy models; on the other hand, it has joined forces with Yu Jie to deal with double-integration policies. According to the latest news, Great Wall Motor will establish a new electric vehicle R&D center in Austria.
The electric vehicle resource network learned that Tongjia will push the upgraded version of the Smart Cow 2 on the upgraded version of Dongfeng Electronics Co., Ltd. in 2018, and four pure electric logistics vehicles such as Dongniu No. 3, Niu Ge and Niudi will also be available. The home sales target is 60,000 units.
According to Lifan Automotive Planning, 20 models of pure electric and hybrid power products will be launched before 2020, and a total of 500,000 new energy vehicles will be sold. On December 16, 2017, Lifan's subsidiary Lifan Chongqing and Chongqing Express Key New Energy Automotive Co., Ltd. signed the "Strategic Cooperation Framework Agreement". In the next four years, Chongqing Express will purchase from Lifan Automobile not less than 10,000 new energy vehicles.
In 2018, Xiaokang expects to launch three new energy models for Tesla, with price levels of 250,000 yuan, 400,000 yuan and 600,000 yuan respectively. The company's products will be promoted in the US market first, and then returned to China.
It is understood that FAW Car and SITECH will jointly set up a research institute. In a five-year cooperation agreement, the two companies will jointly develop, produce and sell new energy vehicle series products. According to sources, the first model of FAW Car Co., Ltd. and SITECH Xinte Co., Ltd. has completed the data freeze and is fully promoting research and development. The prototype will be unveiled at the Beijing International Auto Show in 2018, and will be put on the market in the third quarter. SITECH Xinte, The shared vehicles jointly developed by China FAW and electric pile technology and Mobike Technology will also be unveiled in the same period.
According to the understanding of the electric vehicle resource network, the company regards the subsidy as an opportunity for independence, self-reliance, and self-reliance, so most of them are still full of expectations for 2018.
Auto Parts Used For Jinbei H2 Hiace
Rear Bumper,Rear Pillar Assy For Hiace,Jinbei H2 Hiace Middle Door,Jinbei H2 Hiace Front Door
Baoying Shuguang Auto parts Factory , https://www.shuguangautoparts.com